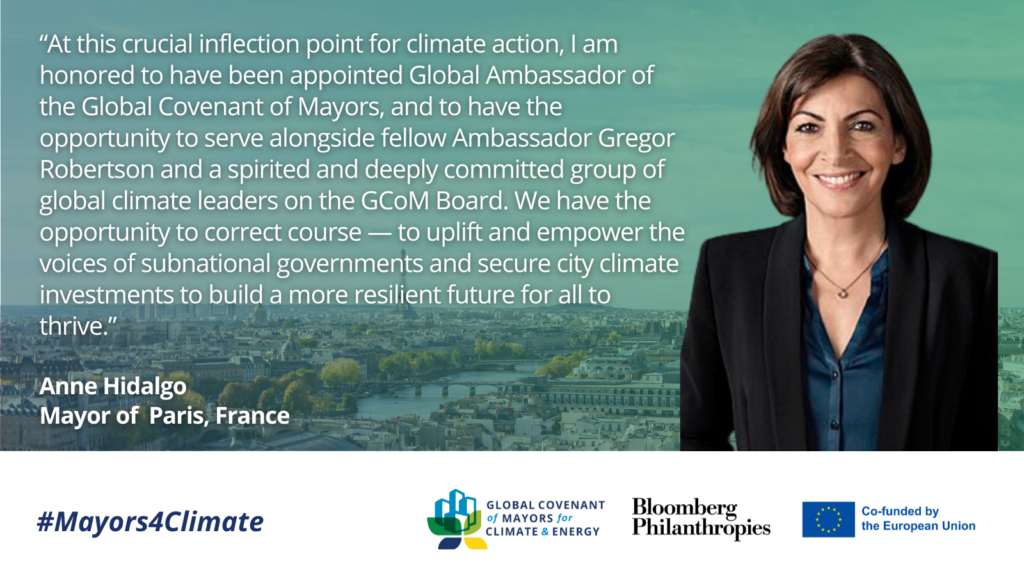 PARIS MAYOR ANNE HIDALGO TAKES ON NEW ROLE TO SUPERCHARGE CITY CLIMATE FINANCE AND AMBITION ACROSS THE GLOBE
Mayor Anne Hidalgo Appointed Newest Global Ambassador for the Global Covenant of Mayors to Help Spearhead City Climate Finance and Commitments Ahead of the First Global Stocktake at COP28
Brussels and Paris (22 June 2023) – Today, the Global Covenant of Mayors for Climate & Energy (GCoM) – the largest global alliance for city climate leadership – appointed the Mayor of Paris, Anne Hidalgo, as a new Global Ambassador. In this role, Mayor Hidalgo will represent the GCoM Alliance – over 12,500 cities and local governments worldwide – on a global stage with GCoM Global Ambassador and former Mayor of Vancouver, Gregor Robertson, along with a distinguished group of GCoM Board Members leading a historic alliance of cities ready to deliver ambitious climate action.
With the first-ever Global Stocktake at this year's COP28 offering a pivotal opportunity to recalibrate efforts, Mayor Hidalgo will work alongside GCoM leadership to strengthen the role of cities in helping national governments meet emission goals driven by the Paris Agreement. In her capacity as global spokesperson, Mayor Hidalgo will advocate for cities to secure access to direct climate financing from governments and the private sector to deliver on climate mitigation and adaptation. In addition to representing GCoM globally, Mayor Hidalgo will play an active role within the organization's governance structure, spearhead strategic initiatives and recruitment of new signatories, and work as a trusted advisor to the Co-Chairs and GCoM Secretariat.
Mayor Hidalgo brings a wealth of climate leadership to GCoM, especially in mobilizing city climate ambition and finance at global scale. She was the first woman to be elected Mayor of Paris in 2014, and since then has made tremendous strides for the City of Lights, prioritizing issues such as climate action, social inclusion, sustainable development, and air quality. In 2015, during COP21 where the historic Paris Agreement was adopted, Mayor Hidalgo co-hosted the Climate Summit for Local Leaders with UN Special Envoy Mike Bloomberg, empowering cities, local and subnational governments to set more ambitious targets for reducing emissions. As former GCoM Board Member, Mayor Hidalgo stressed the crucial role of multilevel partnerships to combat both the climate crisis and the pandemic and achieve a green recovery. And as former C40 Chair, she successfully attracted investment and financing for sustainable infrastructure through efforts such as the C40 Cities Finance Facility, which prepares cities to develop bankable projects.
"Anne Hidalgo is an innovative, ambitious, and effective leader on climate change and air pollution, and the Bloomberg team has been glad to support Paris's work on those issues and more," said Michael R. Bloomberg, UN Secretary-General's Special Envoy on Climate Ambition and Solutions and founder of Bloomberg Philanthropies. "Her leadership in this new role will help the Global Covenant of Mayors do more to support cities and local governments as they find new ways to tackle the climate crisis."
"Mayor Hidalgo is a fearless climate leader. With her city having hosted the historic COP21 that brought us the Paris Agreement, she brings a distinctive perspective to climate discussions within our expanding global community of local climate advocates." said Frans Timmermans, Co-Chair of the Global Covenant of Mayors and Executive Vice President for the European Green Deal. "Mayor Hidalgo recognizes the significance of small actions in achieving larger, collective goals, and I am very happy to see her appointment as the newest Global Ambassador."
"At this crucial inflection point for climate action, I am honored to have been appointed Global Ambassador of the Global Covenant of Mayors, and to have the opportunity to serve alongside fellow Ambassador Gregor Robertson and a spirited and deeply committed group of global climate leaders on the GCoM Board," said Mayor Anne Hidalgo of Paris, France. "We have the opportunity to correct course — to uplift and empower the voices of subnational governments and secure city climate investments to build a more resilient future for all to thrive."
"I am delighted to have Mayor Hidalgo join me as Global Ambassador to the Global Covenant of Mayors to accelerate ambitious and measurable climate action ahead of COP28 and beyond," said Gregor Robertson, Global Ambassador of the Global Covenant of Mayors and former mayor of Vancouver, Canada. "Through her relentless determination and forward-thinking policies she has transformed Paris into a global beacon of climate progress and inspiration. I am confident that together with the GCoM Board we can accelerate further and faster city climate leadership on a global scale.
Mayor Hidalgo will join active GCoM Board mayors – Mayor Würzner, Heidelberg, Germany; Lord Mayor Reynolds, Hobart, Australia; Mayor Dogbatse, Kloto 1, Togo; Mayor Binay, Makati, Philippines; Mayor Trzaskowski, Warsaw, Poland; Mayor Guthrie, Guelph, Canada; Mayor Basualdo, Despeñaderos, Argentina; Mayor Youssef, Menjez, Lebanon and Mayor Yamanaka, Yokohama, Japan – as well as regional Ambassador for Africa Mayor Sefiani, Chefchaouen, Morocco, and GCoM's first Global Ambassador Gregor Robertson and former Mayor of Vancouver to spearhead city climate action across the globe.
The Global Covenant of Mayors represents more than 12,500 cities and local governments around the world committed to ambitious action to combat the climate crisis and build resilient communities. The GCoM alliance is co-chaired by Michael R. Bloomberg, UN Special Envoy on Climate Ambition and Solutions, founder of Bloomberg Philanthropies and Bloomberg LP, and 108th Mayor of New York City, and Frans Timmermans, European Commission Executive Vice-President for the European Green Deal.
# #
About the Global Covenant of Mayors for Climate & Energy (GCoM)
GCoM is the largest global alliance for city climate leadership, uniting a global coalition of over 12,500 cities and local governments and 100+ supporting partners. The cities and partners of GCoM share a long-term vision of supporting voluntary action to combat climate change and towards a resilient and low-emission society. GCoM serves cities and local governments by mobilizing and supporting ambitious, measurable, planned climate and energy action in their communities by working with city/regional networks, national governments, and other partners to achieve our vision. Led today by UN Special Envoy on Climate Ambition and Solutions Michael R. Bloomberg and European Commission Executive Vice President Frans Timmermans, the coalition comprises cities across 6 continents and 144 countries, representing over 1 billion people or more than 13 percent of the global population.
To learn more about GCoM, please visit our website, or follow us on Twitter, Instagram, Facebook, and LinkedIn.