FURTHER AND FASTER TOGETHER: THE 2021 GLOBAL COVENANT OF MAYORS IMPACT REPORT
The Global Covenant of Mayors for Climate & Energy (GCoM) is the world's largest alliance for city climate leadership, totalling more than 11,000 city and local government commitments representing over 1 billion people.
With more than three-quarters of GCoM signatories setting more ambitious targets than their countries' Nationally Determined Contributions (NDCs), more than half aiming to achieve emissions reduction sooner, and a combined 100,000 climate actions in the pipeline, cities and local governments are demonstrating their willingness to act. 
Significant increases in city climate finance – in particular from national governments and international organizations – can catalyze action implementation, propel the systemic transformations needed to meet the moment, and help cities and countries go further and faster together.
View and download the report below. 
11,000+ CITIES AND LOCAL GOVERNMENTS ACROSS 142 COUNTRIES IN 6 CONTINENTS
GCoM signatories represent over 1 billion people – nearly one-quarter of Earth's entire urban population.
These cities and municipalities comprise a diverse socioeconomic fabric: from small and mid-sized towns to the largest metropolises, climate action that reflects local needs remains the common thread.
Hover over a GCoM region to see the number of signatory cities and population.
Collectively, the regions of South Asia, Latin America, Sub Saharan Africa, Southeast Asia, and the Middle East and North Africa make up around 75% of the population represented by new GCoM commitments since 2016 – highlighting the growing importance of climate and the scale at which solutions need to be implemented.
Select a category below to remove it from the graph.
CITIES ARE GOING FURTHER AND FASTER
More than three-quarters of GCoM signatories are going further by setting more ambitious targets, and more than half are acting faster by accelerating the rate at which they aim to reduce their greenhouse gas (GHG) emissions.
Select a category below to remove the target group from the graph.
* Each data point in the chart above represents one GCoM signatory and the strength of their emissions reduction target in comparison to their respective country's NDC. For example, a data point at 100% for both speed and ambition represents a GCoM signatory whose target is twice as fast and twice as ambitious as their national government.
Note: 'Further' is defined as a signatory who is targeting lower per capita emissions compared to their respective country's NDC; 'Faster' is defined as a signatory who is targeting a steeper average rate of emissions reduction compared to their respective country's NDC. These figures are based on latest 2021 city reported data from both MyCovenant and the CDP-ICLEI Unified Reporting System, as well as NDCs submitted as of July 31, 2021.
GCoM SIGNATORIES ARE REDUCING EMISSIONS
Based on current targets and actions, GCoM cities and local governments could collectively reduce global emissions by 1.9 GtCO2e annually in 2030 compared to a business-as-usual (BAU) trajectory. In 2050, that figure is estimated to be 3.8 GtCO2e annually, comprising one quarter of total urban emissions abatement potential.
As highlighted below, there is a sizeable gap between current proposed emissions reductions as stated in Nationally Determined Contributions (NDCs) and the emissions reductions needed to limit global warming to 1.5oC. GCoM signatories – and cities more broadly – are estimated to be able to cut the gap in half.
Select a category below to see the extent to which GCoM signatories can impact the total urban emissions reduction potential.
2030 Emissions Reduction Potential
2050 Emissions Reduction Potential
Note: The total 2050 urban emissions abatement potential of 15.5 GtCO2e is taken from Climate Emergency, Urban Opportunity (CUT, 2019).
ON THE FRONTLINES, CITIES ARE TAKING ADAPTIVE ACTION
As global temperature continues to rise, cities and local governments are also feeling the impacts of climate change with greater intensity and frequency.
GCoM signatories are therefore accelerating their adaptation actions to safeguard their citizens, infrastructure, and other assets from significant climate risks and hazards.
609 cities and local governments reported more than 1,400 high risk hazards – over 2.5 times the number reported in 2019.
Flooding (23%), extreme heat (21%), and extreme precipitation (14%) remain the largest identified risks among GCoM signatories.
Select a hazard (inner ring) to view more details on the specific sub-hazards that GCoM signatories are facing today.
Hover over a GCoM region to see its top three hazards.
Note: For this analysis, high risk hazards are defined as those reported to be both high impact and high likelihood.
n=609 GCoM signatories
BRIDGING THE CLIMATE FINANCE GAP IS CRITICAL TO SUCCESSFUL ACTION AT SCALE
The Cities Climate Finance Leadership Alliance (CCFLA) reports that cities and local governments received USD 384 billion (EUR 330 billion) globally in 2017/18, including all source finance channeled by public and private actors towards climate mitigation and adaptation. This represents around 7% of the USD 4.5-5.4 trillion (EUR 3.9-4.7 trillion) per year that CCFLA reports is needed to realize the full pipeline of city climate action, roughly equivalent to the entire 2019 gross domestic product (GDP) of the world's third-largest economy – Japan.
Moreover, only 9% of all tracked urban project-level data – USD 7 billion (EUR 6 billion) – was set aside for adaptation and resilience measures, highlighting the gap between mitigation and adaptation financing.
Bolstering the volume of finance flows and ensuring equitable distribution to local governments low-income countries can strengthen the countries' collective response to climate change.
Hover over the charts to see the breakdown of tracked climate financing received by local governments in 2017-2018.
AN ALLIANCE DRIVEN BY THE EFFORTS OF REGIONAL AND NATIONAL COVENANTS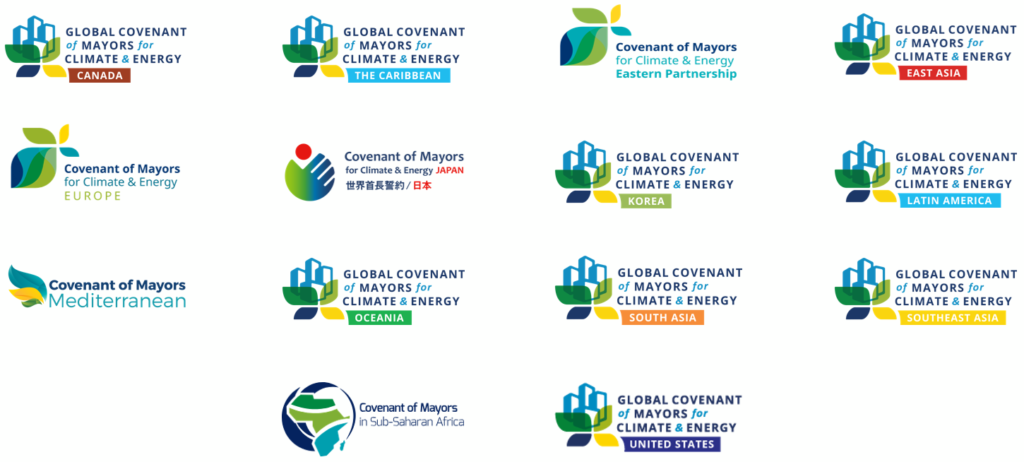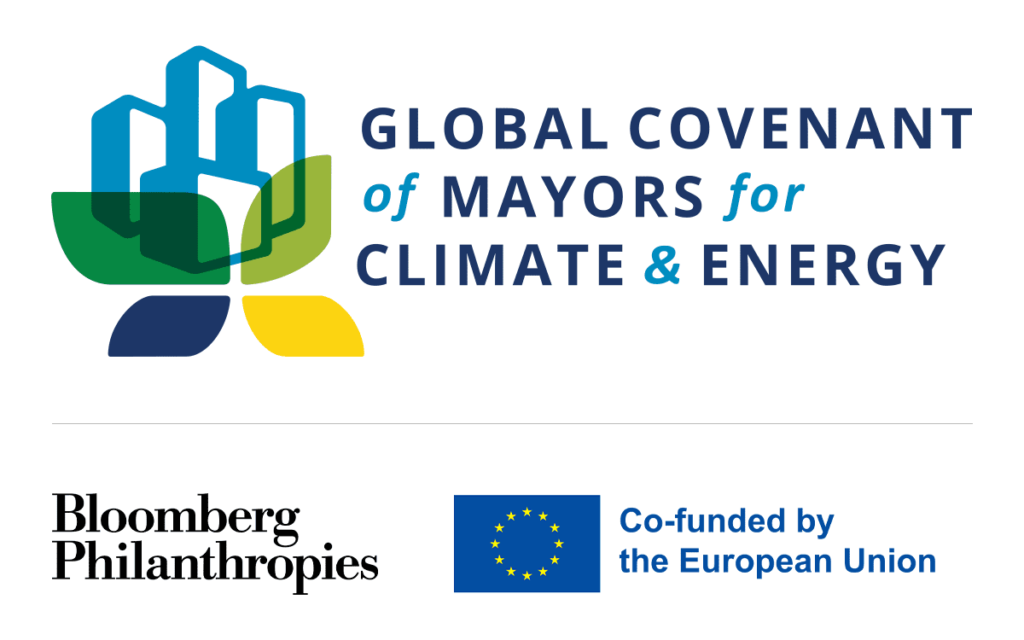 Commit to the Global Covenant of Mayors for Climate and Energy
GCoM cities are united in their shared goals to increase access to renewable, clean energy, build healthy environments, and promote initiatives and best practices that will accelerate the fight against climate change. Together, we will show the collective impact of cities and local governments, and be a force in realizing our vision to achieve a sustainable future.