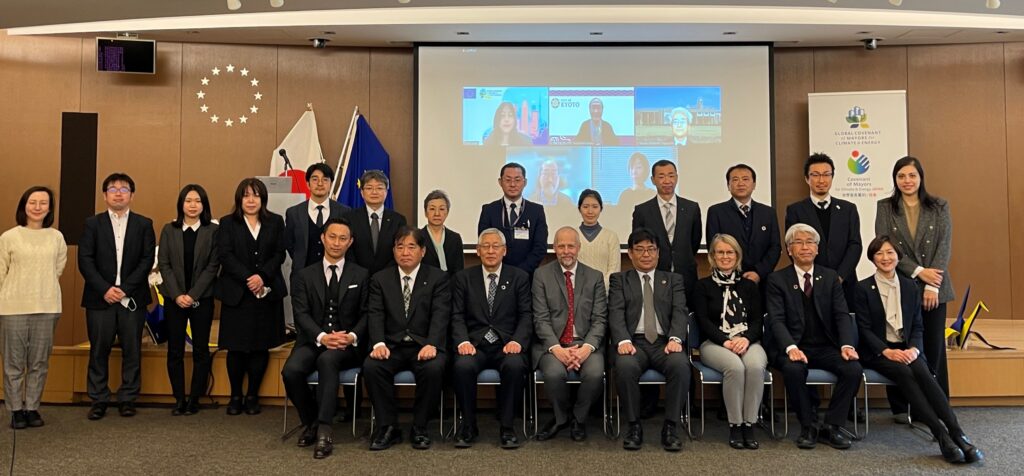 The 4th Steering Committee Meeting of GCoM Japan (February 2, 2023)
The 4th Steering Committee Meeting of GCoM Japan (Mayors' board) was held on Feb. 2, 2023, with the participation of five mayors, four representatives of Japan's Ministry of Environment and European Union Delegation in Japan, six working-level officials of the Steering Committee member cities, five related Japanese organizations delegates as observers, GCoM Asia team leader, and GCoM Japan Secretariat members.
The session started with superb opening remarks given by Mr. Siemers (Deputy Ambassador of the European Union to Japan), Mr. Shiraishi (Director-General of Regional Decarbonization Policy, Japan's Ministry of Environment), and Mr. Kadokawa (Mayor of Kyoto).
Other than the information Ms. Sugiyama (GCoM Japan secretary-general) shared on the 2022 activities, and plans for 2023, Steering Committee members were also updated on the newly added "Energy" pillar to the GCoM Common Reporting Framework. Ms. Marjan (GCoM Japan regional coordinator) informed the board of the new GCoM Global initiatives, such as the Urban Transition Mission (UTM) and Experts' Exchange Program (EEP). Also, Mr. Fujimoto (Mayor of Tokorozawa) briefly talked about his participation and experience at COP27.
One of the highlights of the meeting was the exchange of opinion on the future of GCoM after the financial support by the EU ends at the end of 2023. The discussion started with Ms. O'Driscoll (EU delegate to Japan) explaining the history of GCoM and its progress over the past five years. Followed by this introduction, Prof. Nishizawa from Nagoya University elaborated on the services that the GCoM Japan Secretariat could continue providing without EU financing starting in 2024. Mayors highlighted the criticality of the expansion of GCoM in Japan and the vital role of exchanging best practices for accelerating the implementation of the action.
Mr. Shiraishi (Japan's Ministry of Environment) also pointed out the importance of identifying the existing initiatives' overlaps and synergizing between them to accelerate the action among Japanese cities. Prof. Nishizawa (Nagoya University) elaborated on a similar concept in academia. He talked about a coalition between various ministries and Nagoya University, which led to the University Coalition for Carbon Neutrality of different working groups with lots of overlaps, among which the share of outputs is necessary. In total, the Steering Committee meeting was very fruitful.
The session was closed by Ms. Sugiyama elaborating on the unique collaboration of GCoM and a research institute as the secretariat (Nagoya University), leading to the implementation of scientific solutions on the ground. The Next Steering Committee meeting will be held again in 2023. Meanwhile, the secretariat will continue discussing the future of GCoM in Japan with the members' working-level officials.