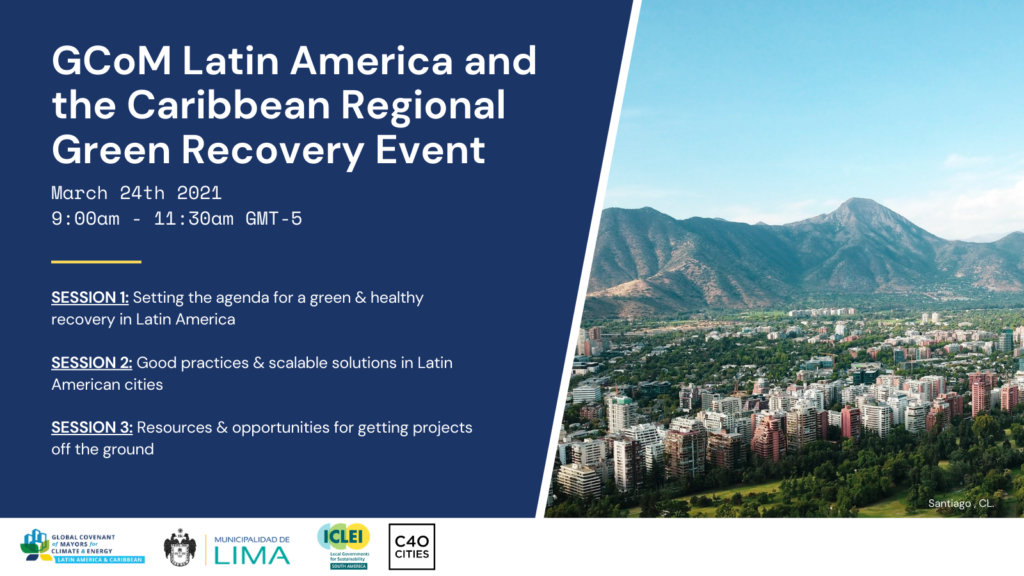 GCoM Latin America and the Caribbean Regional Green Recovery Event
Cities of all sizes have been hit incredibly hard by the global pandemic but are also essential economic engines for jumpstarting national economic recovery – and doing so in a sustainable and inclusive way. Even as we tackle the pressing need to restart economies laid dormant by COVID-19, we cannot lose sight of the increasingly urgent threat of climate change. This moment is an opportunity to build back cleaner, healthier and more resilient.
In June 2020, the GCoM Board, on behalf of over 10,000 cities, called for a green and just recovery. Following this, Mayor Munoz, as the GCoM board member representing Latin America and the Caribbean, reached out to all GCoM LAC cities asking for their feedback on the greatest challenges for a green recovery in cities and stories of success around the region. This event will provide an opportunity for cities to share their green recovery stories and best practices with other cities in the region and raise awareness of resources for cities with regards to access to data and finance. It will also provide an opportunity for cities to raise their GCoM ambition by committing to the UNFCCC Climate Champions Race to Zero and Race to Resilience.
Objectives: Set the priorities for GCoM LAC cities on green recovery, showcase good practices that can be replicated in cities, provide opportunities for support for cities in Latin America and the Caribbean.
SESSION 1:

Setting the agenda for a green & healthy recovery in Latin America

SESSION 2:

Good practices & scalable solutions in Latin American cities

SESSION 3:

Resources & opportunities for getting projects off the ground
WHEN: March 24th
WHAT TIME: 9:00 – 11:30 GMT-5/ 15:00 – 17:30 CET