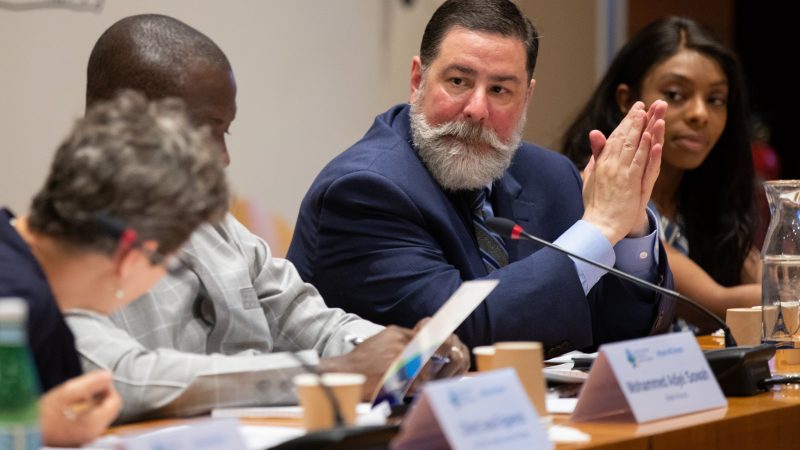 Pittsburgh mayor: Europe should be proud of its climate action
By Aline Robert
In an interview with EURACTIV France, Bill Peduto speaks about Europe's good track record on climate protection, despite the decision by US President Donald Trump to withdraw from the Paris Agreement.
Bill Peduto is a member of the Democratic Party and mayor of Pittsburgh, Pennsylvania, since 2014. He was upset about Donald Trump's announcement to withdraw from the Paris Agreement, saying his city would not withdraw.
Peduto is one of the leaders of the Global Covenant of Mayors for Climate and Energy, which met in Paris last week (26-27 June).
///
In 2017, President Donald Trump decided that the United States should withdraw from the Paris climate agreement. What has changed since then?
Before the president's announcement, sixty US cities decided to commit to the Paris climate agreement. There are now 400 of us.
The majority of Americans are now concerned by climate change. We are mainly talking about those who live in cities that are most affected by climate change.
Most of our carbon footprint is related to urban planning, including that of transportation systems and buildings.
We still have a lot to do, especially when it comes to coal and energy-intensive industries.
What can mayors do?
As mayors, we can go a long way. We can reduce the use of private cars through efficient public transport and invest in more efficient real estate.
In Pittsburgh, our plan is for the city's energy to be 100% renewable by 2045 and by 2030, this would already be the case for the municipality's operations.
Right now, we use mostly nuclear and coal, so it will take time.
How do people react to such announcements?
We are told that we are crazy and that it is impossible. We are also told that it is not enough.
However, we don't focus on extreme reactions! What matters is that every day we do something to make our commitments happen. It's substantive work!
Could a price on carbon help?
Yes, of course. And this question will be crucial during the presidential primaries of the Democratic Party. With a price on a resource, it makes it more tangible, especially for the emitting industries.
Yet, many Americans still believe that climate change does not exist. So for the moment,  I believe that putting a price on carbon would be complicated.
Do you think climate protection will be an issue in the American presidential elections?
There are two topics on which young people will get an idea of the candidates: firearms and the environment.
Usually, these issues are not discussed, but this time it will be different.
After the 2016 campaign, many citizens wondered why the mainstream media was not talking to candidates about the environment.
If they do this again, the debate on climate will be taking place on social, informal and local networks.
How can the environment become an issue for voters?
The issue is particularly important in our states of Pennsylvania, Ohio, Michigan and Wisconsin. In 2016, Trump convinced them that voting for the environment was voting against their jobs.
In 2020, the Democratic candidate must have an explicit programme on the issue and make it clear that voting for the environment will give jobs to the voters and their children.
We seriously need to invest in the states that built the US.
The Democratic candidate needs to suggest a 'Marshall Plan' for the cities most affected by economic change.
In 2016, Democrats promised to teach manual workers how to code. Yet, for them, this seemed like an insult. They and their parents built America with their hands from the ground up and now they were being asked to sit behind a computer…
How do cities cooperate on climate protection?
Pittsburgh is a good example because the city has come a long way!
In the 1940s, public lighting was being constantly used because the pollution was so thick. This is because of the furnaces and the coal-fired power plants. We used to be the most polluted city in the US and were nicknamed the city of "hell with the lid taken off"!
Today, we are not the best, but the air quality has been significantly improved. Representatives from Vietnam and China even come to visit us to understand how this is even possible. And it gives them hope.
What was Pittsburgh's magic recipe?
Initially, there was a major effort by the city, which organised public-private partnerships to clean up the air, water and riverbanks. It attracted cultural investments, contributing to the building of several museums, the university, etc…
Now Pittsburgh has become a major centre for research and development, particularly in the field of artificial intelligence applied to medicine.
If we all work together, progress will be much faster.
Europe has always been proud of its leadership on climate protection. However, the member states are currently unable to agree on a carbon neutrality target for 2050. Does this situation compromise Europe's exemplary role?
Europe should be proud of its climate action. Europe is a source of inspiration and its innovations and environmental initiatives are being followed globally.
Europe is where the rest of the world will be in 10 years' time when the effects of climate change will be even more obvious. At that point, Europe will be far ahead.
In Pittsburgh, we worked with the Danish government and the Danish city of Aarhus. We learned how they were able to reduce their energy consumption by 50% through a local energy plan.
There is no need to invent the wheel. We have signed a cooperation agreement that will allow us to progress faster.
Of course, when policies stagnate temporarily, it is disappointing. Yet, Europe is still so far ahead, compared to the rest of the world.
The US is expected to officially announce its withdrawal from the Paris climate agreement in November and the withdrawal will then be effective in November 2020. How can this be prevented?
Technically, I understand that the new US President will be able, on 1 January 2021, to issue a decree to decide to re-enter the Paris climate agreement.
We cannot wait, not even for a day. This will have to be the first decision we take.
—
Original Article on Euractiv:
Pittsburgh mayor: Europe should be proud of its climate action