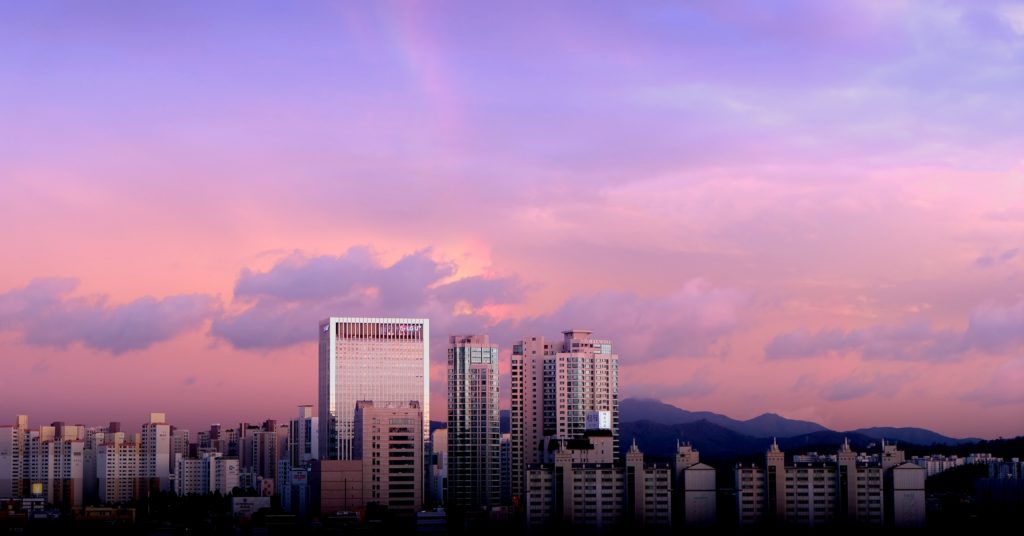 Major Announcements to Drive Transformative Climate Action Unveiled Ahead of 2015 Paris Climate Conference
Thirty-seven Mayors pledge their commitment to action through the Compact of Mayors; Seoul Mayor announces plan to mobilize more cities; ICLEI launches new Transformative Actions Program
10 April 2015, Seoul, South Korea – Major climate announcements that will bring new levels of ambition to local climate action were made today at the ICLEI World Congress 2015 – the triennial sustainability summit of local and subnational governments worldwide.
Thirty-seven leading mayors announced their intent to comply to the new Compact of Mayors – the global coalition of mayors and city leaders voluntarily making commitments to cut greenhouse gas emissions, track progress and prepare for the impacts of climate change. Park Won Soon, Mayor of Seoul, South Korea, revealed the Seoul Action Plan that will motivate more cities to take part in the Compact of Mayors. Under the umbrella of the Compact of Mayors, ICLEI launched the new Transformative Actions Program (TAP) to tap the potential of local and subnational climate action. One element of the TAP is to select 100 promising transformative projects ahead of the 2015 Paris Climate Conference with the aim of enhancing capital flows to cities.
"Climate change will be tackled at the city and regional level. City-level activities account for 70% of global greenhouse emissions, and the majority of climate actions that contribute to global climate goals occur in cities. Particularly in developing countries, cities are facing unprecedented levels of urbanization over the coming decades, making the need for effective local climate action ever more urgent," said Park Won Soon.
Compact of Mayors gains 37 new cities and towns
From Johannesburg, South Africa to Paris, France to Seoul, South Korea, cities around the world are demonstrating collective leadership to fight climate change. Today, these megacities and 34 other leading cities and towns intensified their commitment to climate action by pledging to comply to the Compact of Mayors.
"One of the most effective ways cities are fighting climate change is through the Compact of Mayors," said Michael R. Bloomberg, UN Secretary-General's Special Envoy on Cities and Climate Change. "The Compact reflects the commitment that cities are making to reduce carbon emissions and the crucial role they play in creating a healthier future. As nations come together to negotiate a global climate treaty later this year, the Compact of Mayors offers proof that international cooperation on climate change can produce big results."
Launched at the 2014 UN Climate Summit, the Compact establishes a common platform to capture the impact of cities' collective actions through consistent, public reporting of their efforts.
To take part in the Compact, cities are required to register their climate mitigation and adaptation targets, report their vulnerability assessments and emissions inventories using the global standard GPC on a recognized public reporting platform such as the carbonn Climate Registry or CDP Cities. More information, including FAQs and notes on compliance, can be found on the newly-launched Compact of Mayors website (test-gcmayors.pantheonsite.io).
"As I like to say : "Think global, act local". I strongly believe that actions have to come from cities. We are the frontline when it comes to climate change. By joining the Compact of Mayors, Montreal makes the commitment with other leading cities worldwide to fight for cleaner air, a greener planet, a better sustainable future, " said Dennis Coderre, Mayor of Montreal, Canada.
The full list of cities that announced their intent to comply to the Compact of Mayors include:
Seoul (South Korea), Catbalongan (Philippines), Quezon City (Philippines), Santa Rosa (Philippines), Sebarang Parai (Indonesia), Balikpapan (Indonesia), Bogor (Indonesia), Gwallor (India), Shimla (India), Tarakan (Malaysia), Melbourne (Australia) , Rajkot (India), Singra (Bangladesh)
Montreal (Canada), Vancouver (Canada), Des Moines (USA), Boulder (USA)
Vaxjö (Sweden), Paris (France), Freiburg (Germany), Seriferisar (Turkey), Bristol (UK)
Johannesburg (South Africa), Durban (South Africa), Cape Town (South Africa), Dakar (Senegal), Port Elizabeth (South Africa), Stanger Municipality (South Africa), Pretoria (South Africa)
Chihuahua (Mexico), Medellin, (Colombia), Recife (Brazil), San Rafael de Heredia (Costa Rica) , Itu (Brazil) , Tegucialpa (Honduras), Temixco (Mexico), Toluca,(Mexico)
These cities join the first batch of 20 Latin American cities that pledged to comply to the Compact at the recently concluded C40 Latin American Mayors Forum.
Seoul Action Plan for the Compact of Mayors
The Seoul Action Plan announced today outlines Seoul's commitment to support the Compact of Mayors and mobilize other local leaders around the globe to commit and engage, working closely with the global city networks leading the Compact of Mayors initiative. It is supported by the Special Envoy Michael R. Bloomberg, UN-Habitat and three global city networks – ICLEI, C40 and UCLG.
The Seoul Action Plan encompasses a series of practical plans that will effectively address climate change through sustainable development, reducing greenhouse gas (GHG) emissions, planning low emission development, responding to the impacts of climate change, and intensifying city-city cooperation.
"Seoul commits to reduce emissions by 10 million metric tons over the next five years. The Seoul Action Plan will seek to ensure that exchange of such leading efforts are encouraged and promoted, " said Mayor Park Won Soon. He also reiterated his city's promise to "actively follow up with local governments participating in the ICLEI World Congress 2015 on how they define their roles to ensure the success of the Compact of Mayors."
Transformative Actions Program
A critical obstacle to the realization of the much needed numerous local and subnational actions across the globe is the range of difficulties in accessing funding, as well as the lack of bankable projects. To address these issues, the Transformative Actions Program (TAP) was launched, to improve access to existing capital flows to cities and regions, as well as catalyzing and accelerating additional capital flows from public and private investors.
Gino Van Begin, Secretary General of ICLEI, commented: "The Transformative Actions Program is the result of an inclusive and cooperative effort by networks of local and subnational governments to accelerate implementation of climate action. The TAP seeks to scale up direct investments and increased engagement in national and global mechanisms focusing on capacity building, technology transfer and finance, supported by national government and by financing institutions that can fund accelerated action."
He added: "The TAP has been created by the networks of local and subnational governments, and will support and inform the Compact of Mayors and the Cities Climate Finance Leadership Alliance. This is a joint effort to support investment in urban areas over the next ten years."
The TAP has four action pillars:
TAP project pipeline: a collection of up to 100 "TAP projects" that are selected every year, and presented at the annual UNFCCC Conference of Parties (COP). Two project types are called for – "Fast-track Transformers" and "Post-2020 Transformers".
An online TAP Platform, to centralize TAP projects and offer visibility as basic facilitation to financing institutions. This platform can be used by for cities and regions to present their transformative actions in a structured, unified format to potential funders.
The TAP Pavilion, which will provide a physical space for exchange; and
Ongoing advocacy to increase awareness about the potential of transformative, subnational climate action, in support of national climate action.
The first TAP Pavilion will be held at the UN Climate Conference (COP21) in November/December 2015. High-level representatives of local and subnational authorities will address key messages to national delegations and financing institutions
Media contact:
Katrina Borromeo, ICLEI, Head of Communications, +49-(0)228 / 976 299-16 or +82 10-5677-2531 (in Seoul, South Korea) media@iclei.org
About the ICLEI World Congress
The triennial ICLEI World Congress is the foremost assembly of local governments, and their partners, committed to sustainable urban development. The 2015 ICLEI World Congress convenes over 3,000 delegates, more than half of whom are mayors, elected officials, and city representatives. The Congress will showcases most innovative practices and pioneering solutions of ICLEI Members and partners with a view to demonstrating that a transition to a globally sustainable future is possible. worldcongress2015.iclei.org
About ICLEI-Local Governments for Sustainability
ICLEI-Local Governments for Sustainability is the world's leading network of over 1,000 cities, towns and metropolises committed to building a sustainable future. By helping our Members to make their cities sustainable, low-carbon, resilient, biodiverse, resource-efficient, healthy and happy, with a green economy and smart infrastructure, we impact over 20% of the global urban population. www.iclei.org
Statements from Supporters:
Carina Borgström-Hansson, PhD, Lead, Earth Hour City Challenge, WWF:
"WWF, through its Earth Hour City Challenge is committed to support the Compact and will continue to build up its evidence base of cities demonstrating ambition, commitment and action on the ground to significantly cut emissions and help drive the required global transition to a low carbon, climate friendly future."
Ani Sasgupta, Global Director, WRI Ross Center for Sustainable Cities:
"Cities are on the front line of the climate challenge—and the Compact of Mayors is creating momentum for real solutions to address this global challenge. "As part of the coalition behind the Compact, we will continue to use our technical expertise, analysis, and on the ground experience to support cities in measuring their emissions and developing innovative solutions for change. The Compact shows that city leaders can be a driving force behind low-carbon, resilient urban development that will combat climate change and improve quality of life for people."