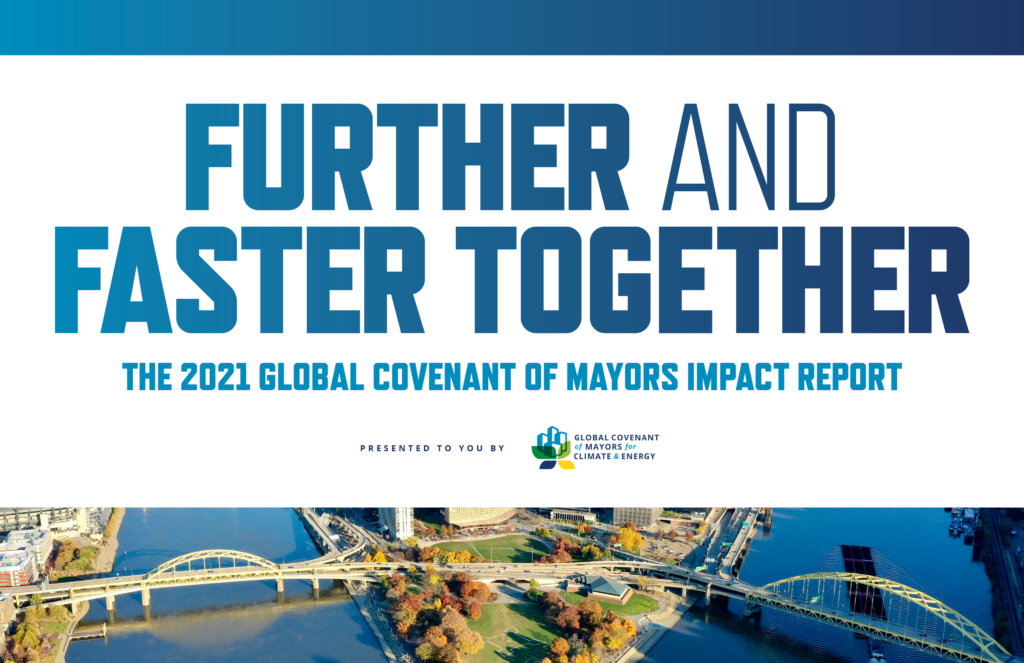 'Further and Faster Together,' The Global Covenant of Mayors Shows How Ambitious City Climate Action Accelerates and Supports Efforts of National Governments
Cities and local governments are quickly achieving ambitious climate goals and acting increasingly as a driving force for emissions reductions progress for national governments 
Continued local action at the necessary scope and scale depends on coordination and integration with national and regional governments 
GLASGOW, SCOTLAND (09 November 2021): Today, at the 26th Conference of the Parties (COP26) to the UN Framework Convention on Climate Change (UNFCCC), the Global Covenant of Mayors for Climate & Energy (GCoM) highlighted the climate leadership of over 11,000 cities and local governments – representing more than one billion people – with the release of two flagship reports: Further and Faster Together: The 2021 Global Covenant of Mayors Impact Report, and the Multilevel Climate Action Playbook for Local and Regional Governments. 
GCoM's annual Impact (Aggregation) Report sheds light on the collective influence of its signatories at the frontlines of the fight against climate change, and calls for a significant boost in urban climate finance flows to realize the full potential of city climate action, while the Playbook outlines the enabling environment required for multilevel climate collaboration that integrates regional and local contributions and bolsters national climate commitments. Both reports show the sheer emissions reduction potential of cities and local governments, and make the strong case for countries to accelerate nationwide systems transformation with greater ambition and at a faster pace.
"Cities are leading the way in the battle against climate change because mayors know we can't wait to act," said Michael R. Bloomberg, UN Secretary-General's Special Envoy for Climate Ambition and Solutions and Global Covenant of Mayors Co-Chair. "Across the world, they are facing the consequences of climate change first-hand—and the GCoM Aggregation Report and RLC Reports are an important step towards making sure they have the funding, data, and tools they need to fight back against it."
"Mayors are trailblazers in the race to net zero. They are bringing cleaner air and greener spaces to their citizens, electrifying public transport, and rolling out bicycle lanes to make cities a better place to live in," said Frans Timmermans, European Commission Executive Vice-President for the European Green Deal, and Co-Chair of the Global Covenant of Mayors.

Latest analysis from the 2021 GCoM Impact Report indicates that over 75 percent of GCoM signatories have set more ambitious GHG reduction targets than their respective national governments, and more than 50 percent are accelerating the rate at which they aim to reduce their emissions. GCoM revealed that its signatories are on track to cumulatively reduce global greenhouse gas (GHG) emissions by 76.5 GtCO2e by 2050 – equivalent to removing 16 billion cars off the road for one year. GCoM cities are also safeguarding their residents, infrastructure, and other assets with more than 4,000 active actions focused on adapting to immediate climate impacts and increasing resilience. However, significant increases in financing are needed as cities are only receiving an estimated 7 percent of the USD 4.5-5.4 trillion (EUR 3.9-4.7 trillion) per year that is required to fully realize the pipeline of city climate actions.
The Multilevel Climate Action Playbook calls on local, regional, and national governments to come together at this crucial moment and collectively capitalize on the opportunity for stronger joint actions and policy alignment. The Playbook brings together curated recommendations for an enabling environment that weaves climate ambition and action of local and regional governments into national policy developments – thereby accelerating the vertical integration of Nationally Determined Contribution (NDC) implementation and investment plans. Drawing on the expertise of cities and over 100 GCoM alliance partners, the Playbook serves as an all-in-one resource for evidence-based recommendations and real-world examples for inclusive multilevel governance and climate action.
About the Global Covenant of Mayors for Climate & Energy (GCoM)
GCoM is the largest global alliance for city climate leadership, uniting a global coalition of over 11,000 cities and local governments and 100+ supporting partners. The cities and partners of GCoM share a long-term vision of supporting voluntary action to combat climate change and towards a resilient and low-emission society. GCoM serves cities and local governments by mobilizing and supporting ambitious, measurable, planned climate and energy action in their communities by working with city/regional networks, national governments, and other partners to achieve our vision. Led today by UN Special Envoy on Climate Ambition and Solutions Michael R. Bloomberg and European Commission Executive Vice President Frans Timmermans, the coalition comprises cities across 6 continents and 142 countries, representing over 1 billion people or more than 13% of the global population.
To learn more about GCoM, please visit our website, or follow us on Twitter, Instagram, Facebook, and LinkedIn.