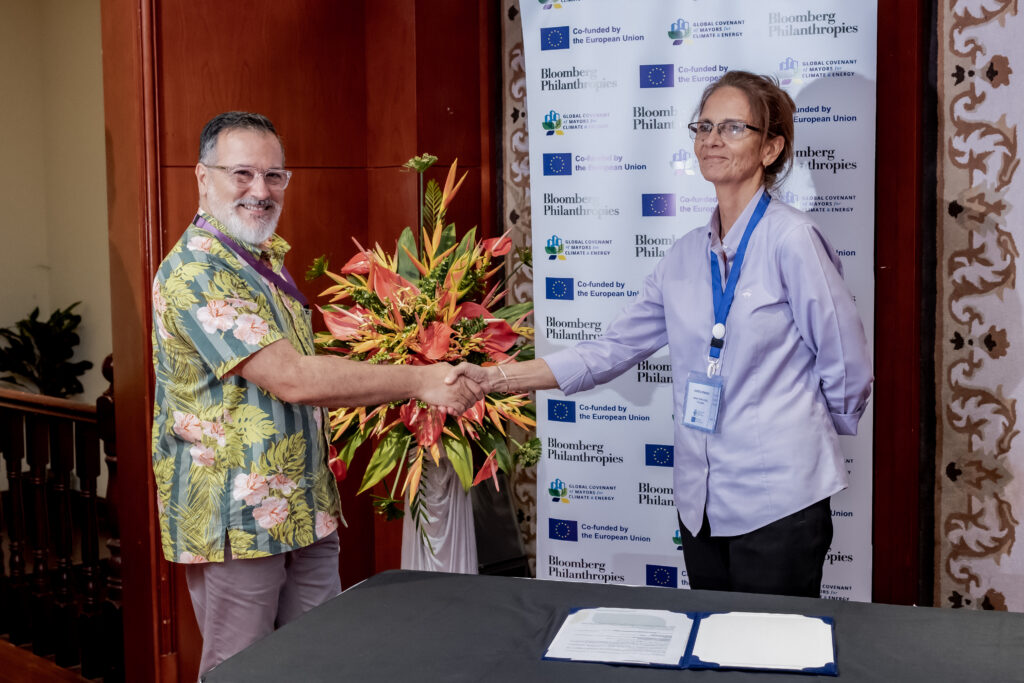 Financing Pacific Cities Climate Battle
Flooding, cyclones and other extreme weather events caused by climate change are creating peril in Pacific cities. Not only do these extreme conditions create new issues for inhabitants, but they also exacerbate existing infrastructural issues such as traffic and waste management. To bolster local preparation for worsening conditions, a number of cities met this week at a day-long workshop on climate finance organized by the Global Covenant of Mayors for Climate and Energy (GCoM) in Fiji, as a precursor to the Pacific Urban Forum 2023.
The gathering served as a platform for several cities to discuss the significant challenges they face in adapting to climate change and increasing resilience, and to engage with insights from experts in presentations by GCoM, the EU Delegation to the Pacific, the World Bank, the Gap Fund and the Cities Development Initiative for Asia. At an evening ceremony following the day's hard work, cities from Fiji, Kiribati, the Solomon Islands, and French Polynesia became new signatories to the Global Covenant of Mayors, while others reaffirmed their commitments.
New Signatories and Reaffirmed Commitments
The new signatories include Labasa, Savusavu, Lautoka, and Suva from Fiji; Honiara and Tulagi from the Solomon Islands; Betio Town Council and Teinainano Urban Council from Kiribati; and Puna'auia from Tahiti. Additionally,  Nadi in Fiji reaffirmed its existing commitment, showcasing a united front in the battle against climate change.
What Cities are Facing
Flooding
Flood-related issues were a common concern for multiple cities, including Labasa and Suva in Fiji, Apia in Samoa, and Puna'auia in Tahiti. The cities are actively looking for solutions to manage flood risks, especially given their vulnerable geographies.
Traffic Congestion
Traffic woes were another prevalent challenge, echoed by cities like Labasa, Suva, and the north part of Apia in Samoa. Tahiti's Puna'auia and Lautoka also reported problems with traffic management, emphasizing the need for holistic urban planning.
Stalled Project Development
Both Honiara in the Solomon Islands and Fijian cities like Suva mentioned frustration with multiple studies that have not been transformed into projects, causing delays in essential climate action initiatives.
Sea Level Rise and Coastal Erosion
Cities from Kiribati specifically discussed the vulnerability of their low-lying coral atolls due to sea level rise and the consequences of erosion. Betio Town Council noted that sea walls, while initially effective, may cause accelerated erosion of adjacent beaches. Saltwater intrusion also means that their soils and groundwater are too salty for domestic use or for their gardens.
Waste Management
Solid waste management was highlighted as a pressing issue by Suva and Savusavu in Fiji, calling for immediate action given the additional challenges posed by climate change. This issue is among most Pacific cities' top priorities.
Energy and Renewable Initiatives
Honiara in the Solomon Islands reported on the nation's recent act banning single use plastics and the ambitious plan of Solomon Power to move towards fully renewable solar energy, showcasing a proactive approach to environmental sustainability.
A United Way Forward
To tackle these issues, a key ingredient is missing: finance. While cities are backing the fight against climate change with their budgets, the level of financing necessary can only be met with further funding and private investment. Getting climate projects investment ready so that they can take wing is a complex affair, and experts from GCoM, the World Bank, the City Climate Finance Gap Fund and the Cities Development Initiative for Asia dove into every aspect relevant for the local leaders present.
Effective Climate Planning for Cities
In her insightful presentation, Dr. Alexandra Papadopoulou, Energy and Climate Expert for the Global Covenant of Mayors (GCoM), emphasized the critical role of effective climate planning for cities. She outlined the ingredients to a comprehensive Climate Action Plan (CAP), the cornerstone of the GCoM process, touching on components like the Baseline Emissions Inventory, and Assessments for Climate Risk, Vulnerability, and Access to Energy, among others.
Dr. Papadopoulou cited the alarming findings from the 2021 State of Cities Climate Finance Report by the Cities Climate Finance Leadership Alliance (CCFLA), stating that "only around 7% of the total funding needed to realize the full pipeline of city climate action was delivered." She added that merely "9% of all tracked urban project-level data—USD 7 billion [EUR 6 billion]—was set aside for adaptation and resilience measures." This reveals a glaring gap between financing for mitigation, the effort to reduce climate change, and adaptation, the effort to prepare for its effects.
To meet the ambitious goals of the Paris Agreement, Dr. Papadopoulou argued that significantly more support and funding are required. She estimated that "GCoM cities and local governments face a collective cost of USD 690 billion [EUR 593 billion]" for the over 100,000 climate actions yet to be implemented across just the building and energy sectors. However, she offered a ray of hope by leveraging insights from the Coalition for Urban Transitions, suggesting that "implementing these actions alone could deliver up to 11 million new green jobs and significantly enhance urban resilience," thereby contributing to local prosperity.
Financial Viability and Transformative Power
Dr. Papadopoulou also touched upon the essential early stages of project development, emphasizing the need to "identify the project and its outputs in particular climate-wise," "collect data and look at the different options," and "further define the financial viability of the project in line with municipal capacity." She explained that the goal of GCoM's technical support is to "fast-track pre-feasibility stages and financial closing to close the financing gap."
Dr. Papadopoulou championed the transformative power of ambitious climate action in cities, highlighting potential benefits like "improved air quality," "greater citizen well-being," "reduced traffic congestion," and an end to energy poverty. She posited that such climate initiatives can also make cities more attractive for investment and help in "ensuring key services to all."
The 'What' and 'How' of Climate Finance
Following Dr. Papadopoulou, Venelina Varbova, GCoM Expert on Environment and Resource Efficiency, delved into the complexities and challenges of climate finance, casting a special focus on its significance for Small Island Developing States. Varbova highlighted that climate finance is not merely a subset of conventional finance, it is a multifaceted discipline with a more extensive social and environmental purpose. Referencing the UNFCCC Standing Committee on Finance, she defined climate finance as finance that aims "at reducing emissions and enhancing sinks of greenhouse gases and aims at reducing the vulnerability of, and maintaining and increasing the resilience of, human and ecological systems to negative climate change impacts."
One of Varbova's most salient points was the notion of "additionality," which requires "proof of climate impact beyond business-as-usual." She warned that this creates "complex, burdensome and often expensive application and reporting requirements," which act as barriers to access. However, she emphasized the unique capacity of climate finance to fund projects otherwise unfeasible through conventional means.
Combatting and Adapting at Once
While Dr. Papadopoulou had pointed out the global funding focus on mitigation rather than adaptation, Varbova noted the opposite trend in this geographic context: The disproportionate focus of funding on adaptation efforts in—57% goes toward adaptation, and only 20% toward mitigation. She stressed that "Further scaling up of both climate adaptation and mitigation finance to the Small Island Developing States is vital," especially in sectors such as agriculture, biodiversity, and infrastructure.
"Climate finance institutions, as specialized organizations, are well aware of the financing gaps of climate projects," Varbova said, emphasizing the need for targeted financial interventions across the entire project life cycle.
In terms of making projects attractive for funding, Varbova highlighted the importance of co-benefits. She mentioned that "projects that limit the risks of climate change and also yield significant benefits in other areas [e.g. culture and wellbeing], 'co-benefits,' are often more attractive for financing." On governance and strategy, she stated that project proposals need to address governance frameworks, sector-specific strategies, and risk management, offering a comprehensive guide for what funders look for in viable projects.
Varbova concluded with a call for a more integrated approach to climate finance. She advocated for a "holistic definition of climate finance" that includes measures for both reducing emissions and increasing adaptive capacities. This emphasis on merging mitigation and adaptation efforts, Varbova argued, is crucial for laying the groundwork for a more resilient and sustainable future.
Enhancing Resilience
The World Bank has long been in the business of enhancing local resilience. At the Global Covenant of Mayors' Technical Support workshop, World Bank experts Jian Vun, a Senior Disaster Risk Management Specialist, and Jessica Schmidt, an Urban Specialist, discussed the most relevant initiatives for the gathered cities. They elaborated on a range of financial instruments, advisory services, and investment projects tailored to support Pacific Island cities in tackling climate and disaster risks.
One of the most noteworthy tools is a hybrid financing instrument that combines a Development Policy Operation, the financial assistance by the World Bank extended to its clients in the form of a grant, loan or credit, with a Catastrophe Deferred Drawdown Option, a contingent financing line that provides immediate liquidity to countries to address shocks related to natural disasters and/or health-related events.
Implemented in countries like Fiji, Samoa, Tonga, and Tuvalu, this hybrid approach offers governments dual benefits: financial support for development projects and immediate liquidity for crisis response, while simultaneously driving policy reforms that enhance resilience. Pipeline projects for this instrument are being considered for the Marshall Islands and the Solomon Islands.
Ready Supports
The World Bank's Advisory Services and Analytics initiative focuses on three core areas: enhancing knowledge and analytical capacity regarding climate risks, building capacity for risk-informed urban planning, and facilitating the rationalization of funds for resilience and climate change adaptation projects. The initiative provides a more nuanced understanding of customary land tenure in the context of urbanization and disaster risk mitigation.
Another instrument available from the World Bank is its Investment Project Financing, which supports long-term projects that can range from capital-intensive investments to institution-building. Unlike commercial lending, this financing serves as a mechanism for knowledge transfer and technical assistance throughout a project's lifecycle. An example cited was the Republic of the Marshall Islands Urban Resilience Project, which finances climate-resilient public facilities and coastal protection.
Co-Benefits Resurface
The notion of 'co-benefits' highlighted by GCoM Expert Varbova is woven into the World Bank's financing instruments, for example through citizen engagement and gender mainstreaming. The World Bank speakers spotlighted gender disparities in the realm of disaster risk management and climate adaptation, noting that the low representation of women in economic participation and legislation is a systemic issue.
As such, the World Bank will focus on increasing the amount and quality of women's participation in disaster risk management and climate change adaptation committees. A minimum target of 40% women representation has been set, along with the establishment of gender-inclusive protocols that consider public safety and childcare responsibilities.
Upping the Pace in the Pacific
The Global Covenant of Mayors' Technical Support workshop succeeded not only in broadening the coalition of cities committed to combating climate change but also in deepening the understanding of the multifaceted challenges Pacific cities face—from flooding and traffic congestion to stalled project development and waste management. As new signatories join the Alliance and others renew their commitments, the call for additional funding and private investment becomes increasingly urgent.
With technical insights from GCoM, the EU Delegation to the Pacific, the World Bank, the Gap fund and the Cities Development Initiative for Asia, the stage is set for Pacific cities to continue on the path to transforming their climate action plans into actionable projects.
A united front in leveraging finance is now essential to ensure that these cities not only survive but thrive in the face of impending climate challenges. This united approach could potentially unlock billions in climate finance, create millions of green jobs, and significantly enhance urban resilience, offering a brighter, more sustainable future for the Pacific region.