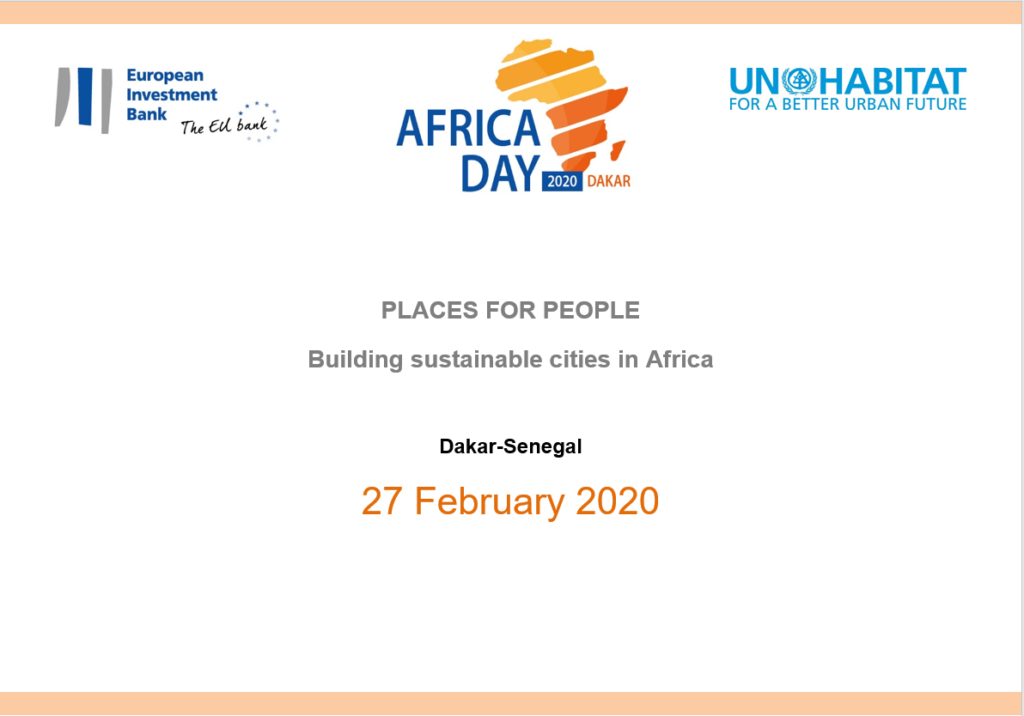 Event: EIB Africa Day 2020
EIB Africa Day is a well-established conference that attracts high-level participants across many sectors. It offers an effective and progressive platform for discussion among professionals based in Africa and Europe alike. Past topics have included the importance of private sector development, jobs for young people, and the role of digitalisation and smart technologies.
Africa Day 2020, organised in partnership with UN-Habitat, will focus on sustainable urbanisation on the African continent, looking in particular at the very rapid growth of African cities and towns. Together we will address the challenges of managing this rapid urbanisation as a key driving force for the successful implementation of the United Nation's Sustainable Development Goals to achieve prosperity for all, without compromising on environmental and climate change imperatives.
The conference will present comprehensive policy development ideas and offer insights on successful integrated planning of urban infrastructure and technologies. The event also seeks to stimulate cooperation among cities of all sizes, countries, and Africa's sub-regions
High-level speakers, from Africa and Europe will be joining Macky Sall, President of the Republic of Senegal, EIB President Werner Hoyer, EIB Vice-President Ambroise Fayolle and UN-Habitat Executive Director Maimunah Mohd Sharif at Africa Day 2020 to share their experiences and expertise.
Our speakers and attendees come from diverse sectors, backgrounds and regions. Africa Day 2020 will be a platform for sharing, discussing, networking and forging new partnerships while deepening existing ones. Together we can find different ways to have positive impacts for Africa and make its cities a better place to live.
WHO SHOULD ATTEND:
The event is open to representatives from national and local governments, commercial banks and development institutions, urban planners, CEOs and CFOs from African and European businesses alike, as well as academics and NGO and civil society leaders.
FOR MORE INFORMATION: Please visit our websites, www.eib.org/events and www.unhabitat.org/events, over the coming months. Here, you will find more information about the programme and the logistics of Africa Day 2020.