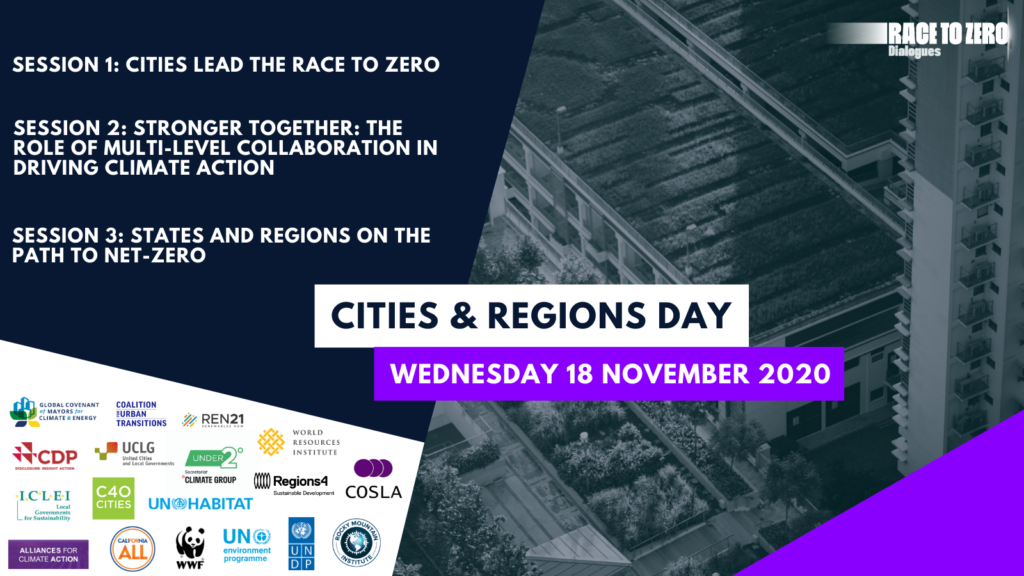 Race To Zero Dialogues: A Summary of Cities and Regions Day
On November 18, 2020, the Global Covenant of Mayors for Climate and Energy (GCoM), together with its partners, organized Cities and Regions Day as part of the Race to Zero Dialogues. The Cities and Regions Day brought together 18 different partners who convened conversations with leading voices in the climate and urban development space, structured around three sessions, focusing on:
Subnational governments as critical drivers of climate action;
Tools and mechanisms for achieving carbon neutrality; and
The significance of multi-level and multi-stakeholder efforts for achieving climate ambitions.
The day opened and closed with strong messages from the Climate Champions Nigel Topping and Gonzalo Muñoz, highlighting the crucial role that cities and regions will play in the Race to Zero. Throughout the day, speakers put forward strong calls for improved collaboration, equity, and urgent climate action in line with scientific targets. The event brought together more than 400 attendees and included remarks from GCoM Board Member Mohamed Sefiani, Mayor of Chefchaouen, Morocco; Aleksi Randell, Mayor of Turku, Finland; Lauren McLean, Mayor of Boise City, Idaho; Abigail Binay, Mayor of Makati, Philippines and Councillor Susan Aitken, Glasgow City Council.
CITIES LEAD THE RACE TO ZERO
The opening session, Cities Lead the Race to Zero, emphasized the central role that cities play in curbing climate change. Cities account for more than 70 percent of global CO2 emissions, consume more than 66 percent of the world's energy, and are currently home to more than half the global population. Speakers highlighted the importance of science-based targets for pursuing climate action, and formally launched the Science-Based Climate Targets: A Guide for Cities. David Miller, C40 Cities' Director of International Diplomacy & former Mayor of Toronto, emphasized C40 Cities, GCoM, and CDP's partnership to recruit 1,000 cities to the Race to Zero. This new partnership seeks to mobilize 1,000 cities to deliver inclusive climate action and a green recovery from COVID-19 consistent with limiting global temperature rise to 1.5°C before next year's UNFCCC Conference of Parties (COP26).
STRONGER TOGETHER: THE ROLE OF MULTI-LEVEL COLLABORATION IN DRIVING CLIMATE ACTION
The second session, titled Stronger Together: The Role of Multi-Level Collaboration in Driving Climate Action, included two panels of speakers that spoke to the importance of multi-level collaboration in driving both a sustainable COVID-19 recovery and long-term climate action. During the first panel, GCoM Board Member and Mayor Mohamed Sefiani (Chefchaouen, Morocco) and Mayor Lauren McLean (Boise, Idaho) highlighted the need for cities to be supported by national leaders, institutions, and the private sector in order to ensure an equitable, green COVID-19 recovery. Mayor Sefiani suggested that through formally recognizing Regional and Local Contributions (RLCs), local leaders can help National Governments achieve more ambitious NDC's in advance of COP26 and accelerate a green recovery from COVID-19.
Mayor Lauren McLean, Boise, Idaho, USA: "No one city can do this work alone. We need help at the state level, and particularly at the federal level, when it comes to building back better, climate adaptation, and resilience."
Mayor Mohamed Sefiani, Chefchaouen, Morocco: "Climate ambition and the race to zero must be comprehensive enough and contain ways of engagement and contribution that work for cities in all countries, particularly in Africa, Asia, and Latin America. Actions for resilience building, adaptation, reforestation, and nature-based solutions."
The second panel focused on long-term climate action and the gaps in climate action that multi-sector collaboration can address. Vera Rodenhoff, Head of Division, International Cooperation at German Ministry of the Environment, Nature Conservation and Nuclear Safety (BMU), spoke about the City Climate Finance Gap Fund, an initiative to unlock 4 billion Euros to help cities in emerging economies advance climate-resilience and low-carbon infrastructure.
Watch the full dialogue available on YouTube here.
STATES AND REGIONS ON THE PATH TO NET-ZERO
The closing session, States and Regions on the Path to Net-Zero, showcased states' and regions' ambitious decarbonization plans, and included insights on the challenges and opportunities of the transition to net-zero. Arantxa Tapia, Minister for Economic Development, Sustainability, and Environment of the Basque government demonstrated that it is feasible to achieve both carbon neutrality and economic growth by 2050, sharing that "our policies are based on three main pillars: a strong political commitment, an action plan to achieve our goals, and the economic resources to support them."
As local, state, and national governments continue to grapple with the intersecting challenges presented by the climate emergency, the need for collaborative solutions and multi-level, multi-sector cooperation will be increasingly critical. Speakers at the event successfully highlighted how a green recovery can be an unprecedented opportunity to work across varying degrees of capacity, as well as within different national contexts, to achieve a truly clean, resilient, and equitable future.