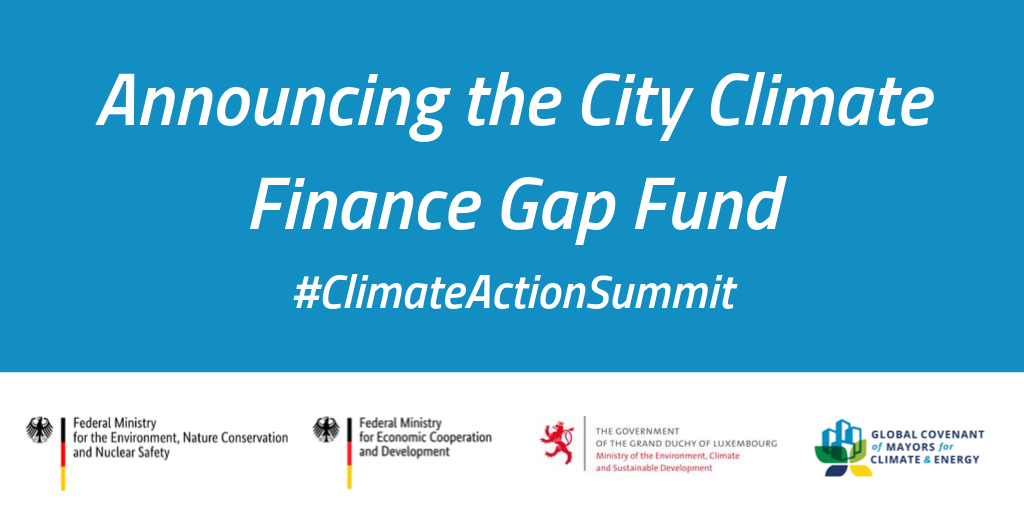 Cities and National Governments Partner on EUR 100M City Climate Finance Gap Fund
Cities and National Governments Partner on EUR 100M City Climate Finance Gap Fund
Multi-stakeholder initiative has potential to unlock EUR 4BN in financing climate action in cities
22 September 2019, New York –– The Global Covenant of Mayors for Climate and Energy, together with the Governments of Germany and Luxembourg, today announced the launch of the City Climate Finance Gap Fund. Both governments together intend to provide up to 50M EUR in grants. The Fund aims for a capitalization of at least EUR 100M which will unlock EUR 4BN in high-quality low-carbon and climate resilient infrastructure projects in cities.
Accounting for 75% of global greenhouse gas emissions, cities play a key role in successfully combating climate change. Thus, climate action of cities as part of the development and implementation of Nationally Determined Contributions (NDCs) is explicitly recognized in the Paris Agreement on Climate Change. An increasing number of cities are developing climate action plans and tracking their own "Locally Determined Contributions" through initiatives such as the Global Covenant of Mayors for Climate & Energy. However, they often lack critical resources and capacity to advance concrete infrastructure projects from an idea to a robust business case. As a result, a multi-billion Euro pipeline of high-quality infrastructure project ideas that can contribute to climate change mitigation and adaptation never reach the stage of investment readiness and implementation.
The newly announced City Climate Finance Gap Fund will address the critical lack of grant funding necessary to mature pipelines of projects from concept to a stage where they can be advanced towards full feasibility analysis and ultimately investment. This will significantly increase the pipeline of high quality bankable climate friendly urban infrastructure projects that must be progressed to meet the urgency of the climate crisis.
The Gap Fund aims to raise more than EUR 100 million in grants in order to unlock at least investments worth of EUR 4 billion in urban infrastructure projects. Germany intends to provide up to EUR 40 million and Luxembourg up to EUR 10 million. The Gap Fund will support project preparation activities for low-carbon and resilient urban infrastructure projects in a minimum of some dozen cities per year by pursuing the following three principle objectives:
Capacity building: Enhance cities and local authorities' capacity to mature high-quality project ideas to later–stage project preparation;
Pipeline-building for later-stage technical assistance: Build a solid portfolio of project business cases for initiatives and institutions that focus on providing technical assistance for late-stage project preparation; and
Pipeline-building for investors: Increase at scale pipelines of bankable projects.
"Cities are at the forefront of our global efforts to fight climate change, and the City Climate Finance Gap Fund is an important new step to support them," said Michael R. Bloomberg, the UN Secretary-General's Special Envoy for Climate Action and Co-Chair of the Global Covenant of Mayors for Climate and Energy. "The fund will help cities turn their ideas into concrete projects that create sustainable infrastructure, reduce emissions, and protect residents from the worst impacts of climate change. Cities' actions are already making a big difference — and this initiative will allow them do more, faster."
 "The Gap Fund has the innovation, the impact and the scale to dramatically increase financing for climate friendly urban infrastructure," said the German Minister for the Environment Svenja Schulze. "We wanted to ensure that it is exactly the type of support that cities need for their local climate action and therefore have co-designed the Gap Fund with GCOM from the start".
"68% of the world population is projected to live in urban areas by 2050.  We need to strengthen our efforts in urban climate friendly infrastructure, built partnerships and create concrete innovative ways of financing if we want to have or cities resilient and healthy for the years to come. That's exactly what the City Climate Finance Gap Fund is." said the Luxembourg Minister for the Environment, Climate and Sustainable Development, Carole Dieschbourg.
 About BMU and BMZ
 The Federal Ministry for the Environment, Nature Conservation and Nuclear Safety (BMU) is responsible for the national and international environment and climate policy. The International Climate Initiative (IKI) of the BMU is one of the first funding programs worldwide to specifically finance climate and biodiversity projects in developing and emerging countries as well as in the transition states. IKI has been established in 2008 and is an important component of Germany's financial commitments to the United Nations Framework Convention on Climate Change (UNFCCC) and the Convention on Biodiversity (CBD). With a strong overall focus on the implementation of NDCs it explicitly emphasizes climate protection, adaptation to the consequences of climate change and the protection of biodiversity. IKI is developing in line with global climate policy. To implement the projects in its partner countries IKI works together with several implementing organizations as GIZ, KfW, development banks, NGOs and UN organizations.
For more information:
Website: https://www.international-climate-initiative.com/en/
Press contact: presse@bmu.bund.de, +49 / (0)30 / 18 305-2010
Within the German government, the Federal Ministry for Economic Cooperation and Development (BMZ) is responsible for Germany's official development policy. The BMZ's task is to determine the objectives of German development policy, to negotiate with about
80 partner countries worldwide regarding bilateral cooperation, and to play a part in shaping multilateral cooperation. The 2030 Agenda for Sustainable Development adopted by the United Nations constitutes the international framework for Germany's development policy. A special focus for the BMZ is creating better opportunities in the countries where refugees originate. Other important topics are global food security, sustainable economic development and climate action. The Ministry has its headquarters in Bonn and Berlin. The BMZ also has some staff seconded to German embassies in its partner countries and to international organizations. For the implementation of its projects, the BMZ relies on the following organisations among others: Deutsche Gesellschaft für Internationale Zusammenarbeit (GIZ), KfW Group, and Engagement Global – Service for Development Initiatives.
For more information:
Press contact: presse@bmz.bund.de, +49 / (0)30 / 18 535-28 70
About Climate Action in Luxembourg
Luxembourg commits to reaching net-zero greenhouse gas emissions by 2050. The National Strategy for Sustainable Development, the National Energy and Climate Plan, the Luxembourg Sustainable Finance Roadmap and the Climate Pact are among others the key strategies for reaching our ambitious targets. Luxembourg is one of the biggest per capita contributors to the international climate finance which comes on top of our ODA amounting to 1% of the GDP.
For more information:
André Weidenhaupt, Director-General: andre.weidenhaupt@mev.etat.lu
Jimmy Skenderovic, Attaché: jimmy.skenderovic@mev.etat.lu
About the Global Covenant of Mayors for Climate & Energy
 GCoM is the largest global alliance for climate leadership, uniting a global coalition of over 10,000 cities and local governments. The cities and partners of the Global Covenant of Mayors for Climate & Energy share a long-term vision of supporting voluntary action to combat climate change and towards a resilient and low-emission society. GCoM serves cities and local governments by mobilizing and supporting ambitious, measurable, planned climate and energy action in their communities by working with city/regional networks, national governments and other partners to achieve our vision. Led by UN Secretary-General's Special Envoy for Climate Action, Michael R. Bloomberg, and European Commission Vice President, Maroš Šefčovič, the coalition comprises cities across 6 continents and 132 countries, representing over 800 million people or 10% of the global population.
For more information:
Marshall Cohen
Chief of Staff
Global Covenant of Mayors
mcohen@globalcovenantofmayors.org
https://www.globalcovenantofmayors.org/
+32 492 25 56 31