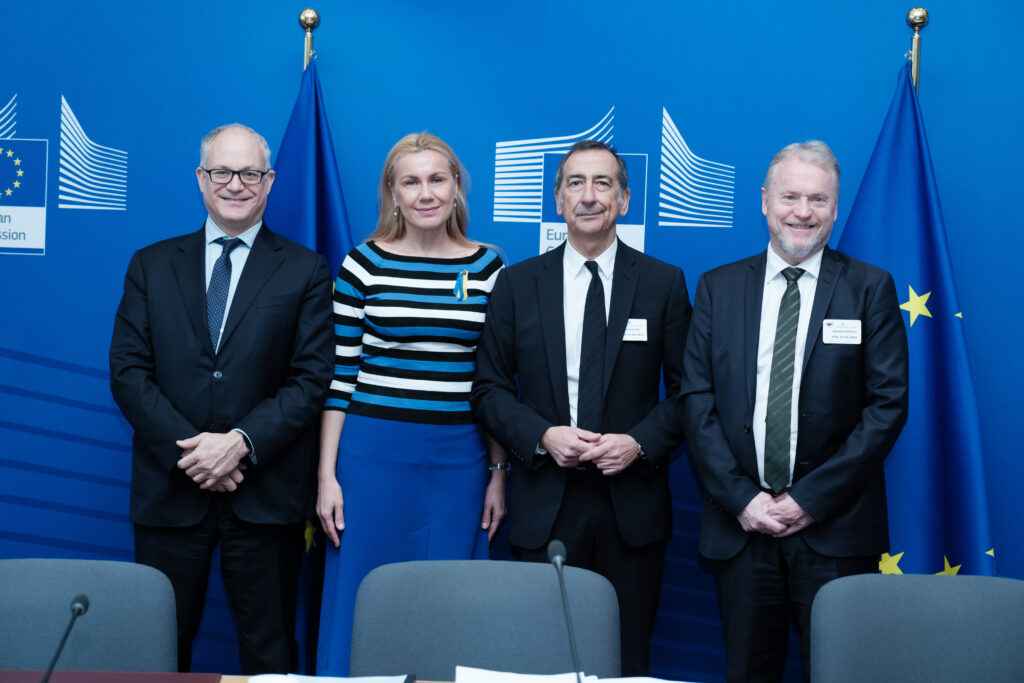 C40 mayors and EU leaders meet to address energy and climate crises
Milan, Rome, Oslo lead the mayoral delegation to Brussels.

Mayors call on EU and national governments to steer more recovery and resilience funds directly to cities to accelerate home insulation, starting with 6 million social and low incomes homes per year.

Cities play an essential role in delivering on REPowerEU and European Green Deal Industrial Plan
BRUSSELS, BELGIUM (21 February 2023) – A delegation of European mayors met with top EU decision-makers today to discuss opportunities to harness the power of cities to confront the energy and climate crisis. The meetings come at a critical moment as the region grapples with high energy prices and cost of living.
The delegation, led by Mayor Giuseppe Sala of Milan, who serves as C40 Vice Chair for Europe, met with European Commissioner for Energy Kadri Simson as well as Céline Gauer, Head of the Commission's Recovery and Resilience Taskforce. The delegation also included Roberto Gualtieri, Mayor of Rome, and Raymond Johansen, Governing Mayor of Oslo, who serves as a C40 Vice Chair for Innovator Cities. 
Mayors travelled to Brussels to highlight the crucial role of cities in delivering on REPowerEU, the European Commission's plan to rapidly reduce dependence on fossil fuels and accelerate the green transition. In particular, cities play a pivotal role in scaling up the insulation of homes to be energy efficient. 
Mayors can only play their vital role in solving the energy crisis and responding to residents' needs if there is raised political commitment to insulate Europe's homes as well as adequate, direct funding and technical support to cities, including through the Recovery and Resilience Plans which EU member states are expected to update this year. 
City leaders should have an opportunity to meaningfully shape these plans and receive direct funding to address urgent energy needs, especially in the area of home insulation, starting with the retrofitting of at least 6 million social and low-income homes per year. C40 research suggests more than €200 billion per year would need to be invested to achieve the annual retrofit rate of 3% (more than triple the current rate) that is required to tackle the energy crisis and meet European climate goals.
C40 mayors are already leading the way. In April, they released the Mayors' Energy Crisis Emergency Plan and last week, they launched a European Global Green New Deal programme that will strengthen cities' capacity to tackle the energy crisis. The programme will bring together a group of leading C40 cities across Europe to accelerate the inclusive and equitable implementation of the Energy Crisis Emergency Plan and deliver relief, retrofit and renewables to residents. 
These actions serve to meet urgent European climate goals and priorities laid out in the European Green Deal Industrial Plan. They are in line with the objectives of the European Year of Skills, recently launched by the European Commission. 
Cities stand ready to act quickly and collaboratively with all levels of government to respond to the energy crisis, accelerate home insulation, create good green jobs and reduce Europe's dependence on fossil fuels. 
Giuseppe Sala, Mayor of Milan and C40 Vice Chair for Europe, said: "The energy transition is not only about subsidising multinational enterprises, but also about investing in local communities by, for instance, upgrading social and low-income housing. These investments not only lower carbon emission, reduce bills and provide the most vulnerable citizens with healthier living conditions. These investments would also sustain the creation of local jobs, generating 26,000 jobs in Milan alone (this decade). We must ensure that different levels of governments, such as the European Commission and cities, cooperate to swiftly enable concrete actions on the ground. The time to invest in cities to rapidly accelerate home retrofits is now." 
Kadri Simson, European Commissioner for Energy, said: "When it comes to tackling the impacts on citizens from the energy crisis, collaboration with important players and at all levels is essential. Local authorities are key delivery partners. To succeed with achieving our climate goals and leading the fast-growing net-zero technology sector, we have a common understanding that in the cities we can achieve the most cost-effective savings by increasing the rate and depth of renovations.
"This will not only lower emissions and save energy, but also support job creation, economic growth and health. The Recovery and Resilience Facility is triggering significant investments into building renovation, and this will continue until 2025-2026. 
"Under the current Multiannual Financial Framework, EU funds are available across different programmes, which put priorities on buildings, and renovations. With the right funding, cities can lead the way. We look forward to a continued collaboration with European mayors to implement these policies at the local level."
Ada Colau, Mayor of Barcelona and C40 Vice Chair, said: "Cities are the closest level of government to residents and are essential partners in the delivery of energy resilience and climate action. There is an untapped opportunity for closer collaboration between cities and the European Commission, the benefits of which would be far-reaching for communities across Europe. C40 research powerfully shows that investing in cities to deliver home retrofits at a scale that could eliminate energy poverty in some European cities, avoid the equivalent of over 100 years' worth of Barcelona's total emissions and deliver thousands of good, green jobs. Today's meetings between C40 cities and the European Commission marks a concrete step into setting such a partnership to make it a reality."
Raymond Johansen, Governing Mayor of Oslo and C40 Vice Chair, said: "Cities are taking strong leadership in answering the energy crisis, coming forward with a concrete vision. As such, C40 Cities have developed innovative solutions and driven local action to tackle the challenges posed by climate change and energy crisis. These ready for use solutions, from energy advice services to help residents save on bills to programmes to accelerate the replacement of gas cookers and boilers, will be shared and closer collaboration between cities and the European Commission can allow them to be spread and scaled up across European countries." 
Roberto Gualtieri, Mayor of Rome said: "Accelerating the energy transition is the most effective and fair answer to relaunch the European economy and to get out of the difficult situation that many families are living due to the increase in energy prices caused by the war in Ukraine. Rome is today strongly involved in the energy renovation of its buildings. We are retrofitting hundreds of schools and social houses but the challenge we have to face is huge with thousands of buildings where we must intervene. This is the reason why it is essential to build a strong collaboration between cities and with the European Commission, to turn cities into innovation laboratories that create new green jobs and tackle energy poverty."
ENDS
About C40 Cities
C40 is a network of nearly 100 mayors of the world's leading cities working to deliver the urgent action needed right now to confront the climate crisis and create a future where everyone, everywhere can thrive. Mayors of C40 cities are committed to using a science-based and people-focused approach to help the world limit global heating to 1.5°C and build healthy, equitable and resilient communities. Through a Global Green New Deal, mayors are working alongside a broad coalition of representatives from labour, business, the youth climate movement and civil society to go further and faster than ever before. 
The current Chair of C40 is Mayor of London Sadiq Khan; three-term Mayor of New York City Michael R. Bloomberg serves as President of the Board. C40's work is made possible by our three strategic funders: Bloomberg Philanthropies, Children's Investment Fund Foundation (CIFF) and Realdania.
To learn more about the work of C40 and our cities, please visit our website, or follow us on Twitter, Instagram, Facebook and LinkedIn.
About the Global Covenant of Mayors for Climate & Energy (GCoM)
GCoM is the largest global alliance for city climate leadership, uniting a global coalition of over 12,500 cities and local governments and 100+ supporting partners. The cities and partners of GCoM share a long-term vision of supporting voluntary action to combat climate change and towards a resilient and low-emission society. GCoM serves cities and local governments by mobilizing and supporting ambitious, measurable, planned climate and energy action in their communities by working with city/regional networks, national governments, and other partners to achieve our vision. Led today by UN Special Envoy on Climate Ambition and Solutions Michael R. Bloomberg and European Commission Executive Vice President Frans Timmermans, the coalition comprises cities across 6 continents and 144 countries, representing over 1 billion people or more than 13 percent of the global population.
To learn more about GCoM, please visit our website, or follow us on Twitter, Instagram, Facebook, and LinkedIn.