Compact of Mayors Resources
Click through below to see the tools and resources available to cities at each phase of the process. For questions about Compact commitments and tools, please reference this
webinar
.
City Urban Action Sustainability (CURB)
EU Covenant of Mayors Resources
The EU Covenant of Mayors is a three-step process.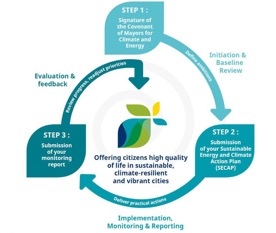 Local authorities joining the European Covenant of Mayors for Climate and Energy initiative commit to submit a Sustainable Energy and Climate Action Plan (SECAP) within two years following the formal signing, including the mainstreaming of adaptation considerations into relevant policies, strategies and plans. The SECAP is based on a Baseline Emission Inventory (BEI) and a Climate Risk & Vulnerability Assessment(s) (RVAs) which provide an analysis of the current situation. These elements serve as a basis for defining a comprehensive set of actions that local authorities plan to undertake in order to reach their climate mitigation and adaptation goals. Signatories commit to report progress every two years.
More tools are also available for members of the EU Covenant Community (Signatories, Coordinators, Supports and Associated Partners) in the private area of the EU Covenant website, including:
E-learning tool
Resource Library
Discussion Forums
Peer-to-Peer Tool (soon)
Step 1 - Political Commitment
Register Commitment
Document outlining the European Covenant of Mayors commitments to be approved by the local authority's council.
EU Covenant of Mayors Adhesion Form (Word)
Form to be signed by the Mayor – or equivalent representative of the municipal council – to proceed with registration to the Covenant of Mayors initiative in Europe.
Step 2 - Action Planning & Reporting
Take Inventory
Urban Adaptation Support Tool
Step-by-step guidance tool that assists Covenant of Mayors signatories in planning and taking adaptation action. This tool has been developed by the Covenant team and is available on the European Environment Agency's Climate-ADAPT portal.
EU Covenant of Mayors Reporting Template (.xls)
Excel copy of the Reporting Template to be filled in every two years by signatories of the European Covenant of Mayors in the online reporting platform.
EU Covenant of Mayors Reporting Guidelines (.pdf)
Guidelines to support signatories of the European Covenant of Mayors throughout the online reporting process.
Step 3 - Monitoring Progress
Create Targets and Metrics