Global Covenant of Mayors for Climate and Energy STRATEGIC PLAN
THE ROLE OF CITIES
Cities and local governments are well-positioned to show the global community what ambitious climate and energy planning and action looks like. Home to more than half the world's population, most of the built environment, and three-quarters of global gross domestic product (GDP), cities are paramount to addressing the climate crisis. The GCoM alliance, encompassing partners and 11,000+ committed cities and local governments, was created for just this purpose: to mobilize and support ambitious and measurable city climate action.
Opportunity through Partnership
New and expanded partnerships and forms of collaboration for the GCoM alliance will help cities and local governments deliver on their promise for bold climate action. Chief among them is the expanded role of the European Commission, which will help enhance and deepen engagement with cities and local governments while contributing to international European Union (EU) commitments, including the Glasgow Climate Pact, the 2030 Agenda for Sustainable Development, the Paris Agreement, the Sendai Framework on Disaster Risk Reduction, and other relevant international initiatives.
Capitalizing on this critical opportunity for cities also requires ever-stronger collaboration and coordination with network partners, both globally and in-region. As core strategic and implementation partners, GCoM will continually engage and consult network partners on cross-cutting initiatives and create touchpoints to ensure that GCoM remains a global alliance able to accommodate local and regional needs.
Through partnership with Bloomberg Philanthropies, the European Commission, city network partners, and others, the GCoM alliance will also bring forward technical assistance and support tools both globally and to areas of the world that need it the most.
PURPOSE OF THE STRATEGIC PLAN
This document serves as a roadmap for the Global Covenant of Mayors for Climate & Energy (GCoM) alliance's strategy for the next three years. It outlines the mission and vision, organizing principles, and a proposed strategic direction centered around three goal areas:
Growing GCoM to include more cities and local governments;
Deepening engagement with cities and local governments committed to climate; and
Accelerating climate action delivery through multi-level governance.
It further articulates the strategies, tactics, and delivery pathways necessary to achieve the overarching goals.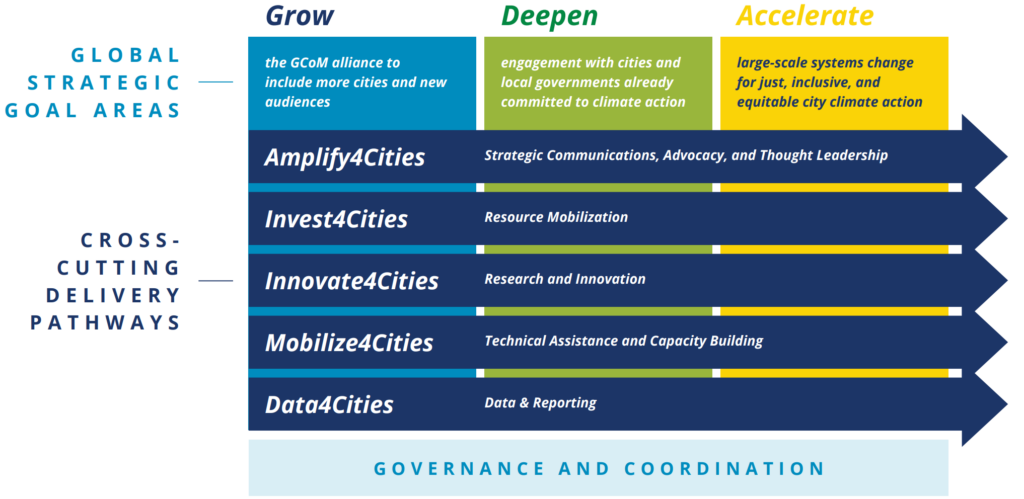 GROW
While large, well-resourced and committed cities are leading the way on climate thanks to their footprint, including many that are striving toward Net Zero, thousands of small and medium-sized cities are vital to achieve climate action at a global scale. Half of the urban emissions reduction potential today rests in rapidly growing cities with fewer than 250,000 people. The vast majority of the 70 million people migrating to urban areas are in low- and middle-income countries, where political priorities jostle for position amid a backdrop of rising climate risk and vulnerability. Many of these cities and their residents perceive the impacts of climate change to be far away in time and space. This includes both individual citizens and local, state, and national government leaders.
To grow the alliance and catalyze action across all cities and local governments, we must clearly communicate the value and impact of GCoM to cities that incorporates adaptation, energy access, poverty reduction, economic recovery, and overall community sustainability. In short, we must make a positive case for joining the alliance, sharing stories that are powerful, meaningful and can inspire action. We must also create new entry points and pathways for more cities to join our growing movement, upholding standards that are both flexible and rigorous, and creating enabling conditions that make joining the GCoM alliance a clear and critical choice.
DEEPEN
Many cities and local governments that have committed to the GCoM alliance do not have the internal capacity to develop plans, report on progress or to take aggressive climate action. An estimated US$93 trillion of sustainable infrastructure needs to be built by 2030 to reach global climate and energy goals.
Climate financing is often essential to kick-start additional investments in mitigation and adaptation measures and to access additional private investments. However, many local and regional governments are not aware of financing options, unsure as to the most suitable climate finance instruments for their investments, or not in a position to prepare and secure the financing available.
New global and national recovery investments, such as the European Green Deal, present opportunities to drive environmentally, socially, and economically beneficial outcomes for responsive, multi-level alliances like GCoM. Recovery efforts to address the COVID-19 pandemic also present a critical opportunity to advance climate priorities through enhanced collaboration and recovery investment, including direct investments in green jobs and clean energy projects that avoid carbon intensive development and lock-in.
Over the next three years, we must further harness the power of our cities, regions, and network partners to catalyze the development of untapped resources and ways of working. These efforts will focus on better connecting cities to the critical data, knowledge and capital needed to accelerate climate action. We will couple these large-scale advancements with more immediate on-the-ground delivery of climate projects that will serve as examples of success and an achievable pathway to implement high-impact urban climate solutions.
ACCELERATE
Rapid urbanization, disruptive technology, and dramatically changing climates and ecosystems – as well as the cascading consequences of COVID-19 – present additional challenges to reducing emissions, cultivating resilience, generating energy access, and eliminating energy poverty. Cities and local governments are facing ever-frequent and ever-greater climate hazards – including cyclones, floods, wildfires, and droughts – resulting in emergencies that often impact the most vulnerable.
Unlocking mass city climate action at the pace necessary will require transformative, system-wide shifts – spanning across levels of government, sectors and jurisdictions. National and regional governments (i.e., entities with jurisdictions larger than cities) have primary authority over two-thirds of the global urban abatement potential including decarbonization of electricity. The private sector wields significant power as well, including untapped investment and technology potential.
At the same time, the next generation of thinkers and climate activists are searching for ways to mobilize, innovate and advocate on behalf of the planet, and the places they live and work and play.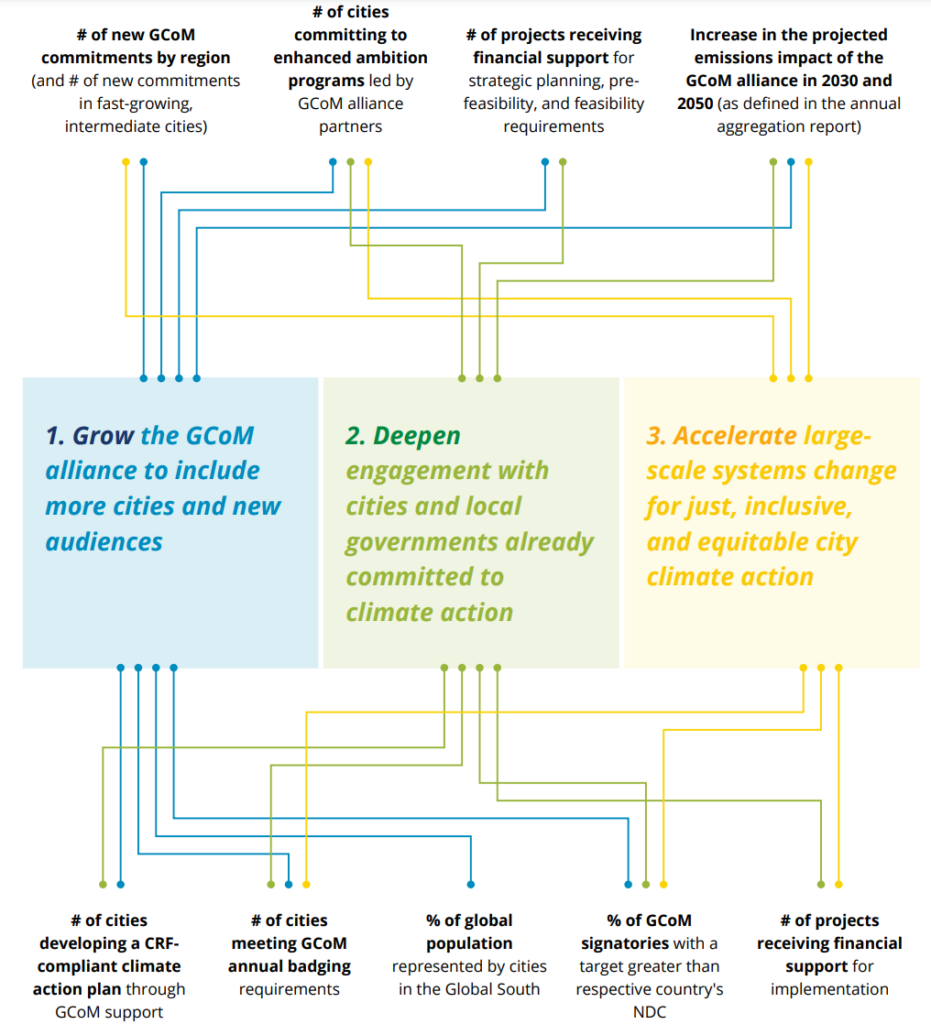 ALL aliance driven by the efforts of regional and national covenants