How Ghana's youngest mayor is becoming one of the climate's biggest defenders
Established in 2012, the Sagnarigu Municipality is one of Ghana's youngest provinces. Despite its young age, under the leadership of their Mayor Mariam Iddrisu, Sagnarigu has bold ambitions to take real action on climate change.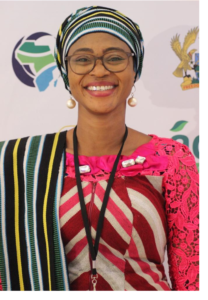 Mariam was appointed Mayor of this northern Municipality of Ghana back in May 2017, where she became the youngest sitting Mayor in the entire country. A driver of progress, Mariam has been repeatedly lauded for her inspirational efforts on gender equality and climate action. Mayor Mariam's first priority in tackling climate change is awareness-raising among her people.
"Climate change threatens the very existence of man on earth. It is a huge issue, and one that is less understood by many of the citizens of Ghana, especially in my municipality both at a policy and community level." Mayor Mariam explains.
"We must take urgent steps to equip our people with the knowledge that certain practices, such as high fuelwood consumption and excessive felling of our forest for charcoal, have an effect on the environment. They need to become sensitized and make this connection that is not currently there."
Hon. Mariam recognizes that awareness-raising is an ongoing activity, and one which takes place slowly over time. Her strategy is one that focuses in the first instance on the opinion leaders in the Sagnarigu community, which means reaching out to chiefs (the custodians of the land) and religious leaders.
Once opinion leaders understand climate change, its effects, and the behavioral changes needed, they can educate the people in their communities and achieve that all-important mindset shift towards everyday climate action.
Once opinion leaders have absorbed and relayed these messages, Mariam plans to then move on to wider awareness-raising through media relations, integrating climate change education into school programs and engagement with women's groups.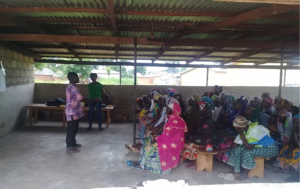 As has been recognized by both the United Nations and the World Health Organization, it is women who are most susceptible to the negative effects of climate change. As the primary caregivers, the damage caused by climate-related disasters- such as flooding- causes more disruption to the life of a woman than it does to that of a man.
"After the flooding, the women in my community will tell me: 'The water has carried our utensils away, I cannot prepare food or repair clothes for my children.' It's the responsibility of the woman, so when the flood takes away our resources or damages our infrastructure, it is the woman who is the most affected" Mariam explains. Already on an unequal footing, the socioeconomic power of the woman is even further reduced after such natural disasters.
Mayor Mariam is under no illusions that she has a lot of work ahead of her, but she is optimistic about the progress they have made so far. She took the decision to commit Sagnarigu to the Global Covenant of Mayors so that she would be able to work closely with other cities, to share experiences and learn from the experiences of other Mayors.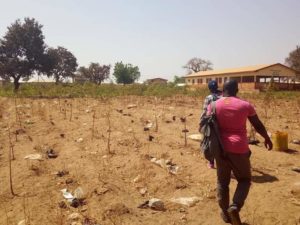 The municipality is already working with the 'Green Republic' – an organization that plants trees in public spaces. Through this collaboration, 50,000 trees will be planted in six selected public schools. Furthermore, the municipality is also running a government flagship program, dubbed 'Greening Northern Ghana Project', through the Forestry Commission of Ghana. This project has engaged over 500 youths, within the Municipality, to plant trees in public institutions, creating forest reserves in available communities. Aside from greening the city, Mariam also speaks about more innovative climate action projects that could soon come to fruition and have a huge impact on the municipality's green credentials.
When it comes to waste management, Jospong Group of Companies, one of the most diversified holdings companies in Ghana, submitted a proposal to the municipal assembly to establish a waste Recovery Park, which involves the installation of a 400 tons/per day capacity integrated Recycling and Organic Compost Plant and Sewage treatment plant.
"Our next step is to engage the chief who owns the land to see whether we would have permission to pursue the project or not. If he is convinced that this project would be good for the community and a positive use of his land, we can then invite the companies to submit a comprehensive proposal," she explains.
In the meantime, the Assembly is engaging in an impact assessment of a potential "Solar Sun Power Project." Starting with the municipal office complex and the Mayor's official residence, the idea would be to then encourage the switch from the national grid to solar panels across the municipality in its residential buildings.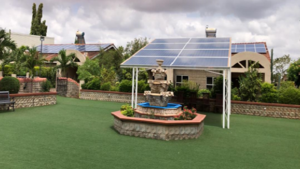 The Clean stoves Project is another innovative intervention that will replace the use of fuelwood and charcoal. The technology is a clayed stove with chimney which uses the residue of Shea nut as main source of energy. This is designed to shift from the use of fuelwood and charcoal to a cheaper and more climate-friendly source of energy, shea nut residue.
Mayor Mariam is an impressive leader that has already achieved a huge amount in her municipality in a very short time period, and her energy, enthusiasm, and list of ambitions is inspirational. With one of GCOM's board members, Mayor Adjei Sowah, coming from Ghana's capital Accra, there are many reasons to be optimistic about Ghana's climate action future. With leaders like these, the African region's place in the global climate change debates is one that can only increase in importance.